More Customers' Comments
Customers' Comments
Here are some more comments from our customers. We feel it's very important to share as it demonstrates Gary's work ethic, patience and knowledge. Training and starting a horse is such a crucial step in the horse's future, it's imperative that the job gets done correctly.
Well we are home with Rusty. I would like to Thank
Ionsons Saddlery
...
for pointing us in the direction of G and K Training Centre. Gary and Kerri truly care about the horses first. I would like to Thank them for their honesty and dedication to doing it right and not giving up on something that someone may have thought to be a waste of time. It was the best decision we made. And we have a couple of new friends to boot. Thanks again Jim and Sandra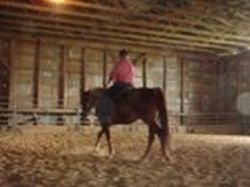 One round trip to G & K Training 736.5km. Did I choose them because I wanted "a trainer out of town" so I could say "MY trainer from down south" NO! Did I do it so that I have a quiet, calm 3 year old that knows her job, that wi...ll calmly walk off relaxed head low. YES. Worth every KM, every penny. Gary is quiet and to the point. Not only did my filly go for 90 days training my husband brought his young filly for lessons and the difference in her in only a few short lessons AMAZING. A true horseman that is in it to better a horse and the rider. Yes he has a waiting list but folks get on it! It is worth the wait! I can not thank Gary enough. We are looking forward to putting many miles our horses.
Kathie M.